TRUSTED PLUMBER IN BAKERSFIELD, CA, AND NEARBY AREAS

LICENSED & INSURED
PROFESSIONALS
HIGH-QUALITY TOOLS
AND EQUIPMENT
NO SURPRISE
COSTS OR FEES

24-HOUR
EMERGENCY SERVICE

OUR SERVICES — FIX YOUR PIPES WITHOUT THE MESS!
The Plumbing Doc specializes in an array of general plumbing services in Bakersfield, CA, and nearby areas. Whether you are dealing with a kitchen plumbing issue or a bathroom sink replacement, we have the experts who can get the job done in a timely and efficient manner.
We have numerous sizes and types of cameras to make sure we have the right one for the job at hand, from short distances up to 1000 Feet.
If you are unable to unclog the drain yourself, you will find that in the long run, it will be well worth the money to get a repairman to fix it.
TRENCHLESS LINE REPLACEMENT
Fix your pipes without the worry of tearing apart your walls, floors, and lawns. It can also be used for tenant improvement projects to up-size existing lines.
Plumbing Doc is owned by Rick Clemmons. Rick was born in Arlington California in 1959 and moved to Bakersfield in 1964. He was raised right here in Kern County and through the years has developed many strong friendships and ties in our community. He graduated high school in 1976 and enlisted in the United States Air Force.
After being honorably discharged he joined the Kern County Fire Department where he performed duties out of Keene, California as a seasonal fireman (hotshot crew member). At the end of the fire season after leaving the fire department he attended college both in Texas and then back here at Bakersfield College studying everything from Mathematics to Diesel Mechanics and Welding.
Today, Plumbing Doc offers our professional plumbing services to several areas in California, including: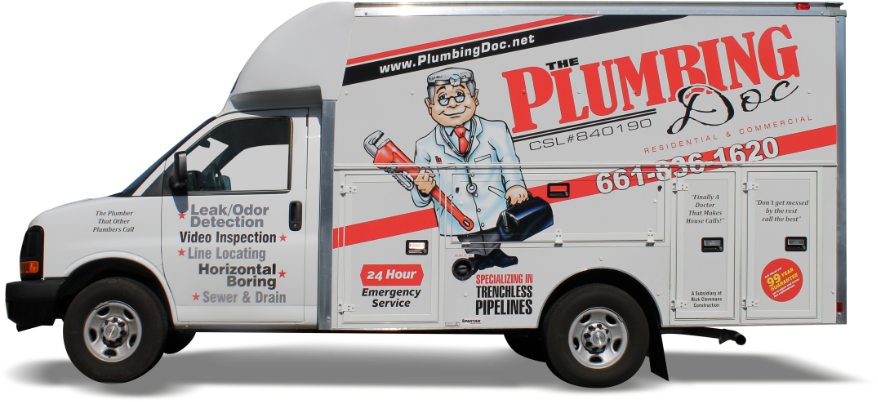 DON'T FORGET THE NAME TO CALL, PLUMBING DOC , THE ONLY NAME THAT YOU NEED TO KNOW.
WHAT PEOPLE SAY ABOUT PLUMBING DOC
I can't say enough good things about the plumbing doc. Last Easter when my water heater sprung a leak they came out quickly and didn't charge me up the ying yang for coming out on a holiday and a weekend...

Knowledgeable and helpful. They saved me a lot of money.
BILL LEVER
Google Reviews
Had issues with our old house's plumbing on a Saturday afternoon. The Plumbing Doc was the only plumber in town that could come that day. After calling he was at our house in less than thirty minutes. He was incredibly polite and seemed very knowledgeable...
WE'RE EXPERIENCED IN RESIDENTIAL AND COMMERCIAL PROJECTS
1805 Lawson Road
Bakersfield, CA 93304 USA